Interdigitated Electrode Arrays for Biochemical Sensors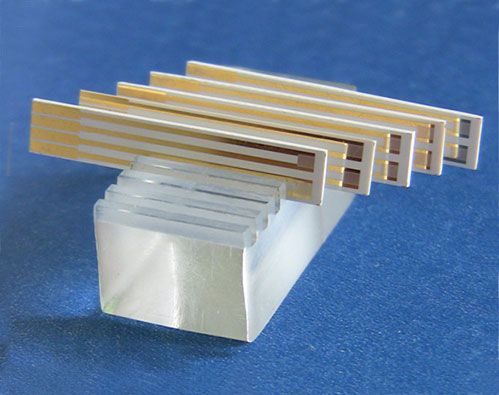 Description
Interdigitated electrode arrays for biochemical sensors on sitall or glass support with 150 nm Au layer and 10, 20, 30 or 50 interdigital gap.
We accept PO, Credit Cards and PayPal. To order by PO please e-mail/fax PO order.
Shipping: international worldwide is supported (e-mail us if problem with international address). Electrodes are in stock and will be shipped next day.
Material of support
– sitall (crystalline glass-ceramic with ultra low coefficient of thermal expansion)
– glass
L = 1mm, W(finger) = 20um for all electrode models.
– sital: S(gap) = 10um, 20um, 30um, 50um
– glass: S(gap) = 10um, 20um, 30um, 50um
Number of interdigit pairs
20 (40 fingers in total: 20 for left contact and 20 for right contact)
Area of each system
10 um – 1.25 mm2
20 um – 1.65 mm2
30 um – 2.0 mm2
50 um – 2.8 mm2
Number of electrode arrays on the slide
2